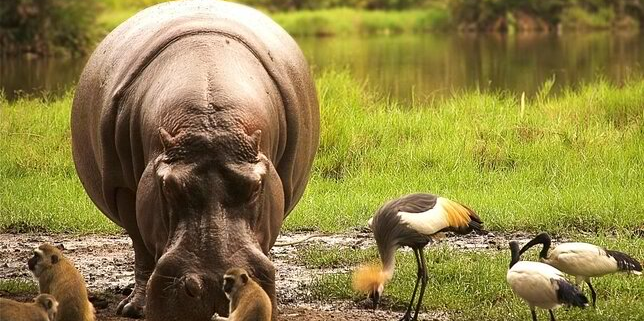 MASAI MARA NATIONAL PARK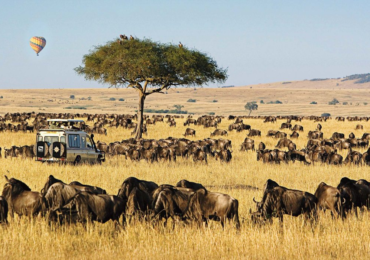 Referred to as the highlight of the game viewing in East Africa, and needless to point in the world!! Maasai Mara is situated in the heart of the Great Rift Valley, with an area of 1,812 sq. km, limited to the East by the Talek river and Loita plains, Masai Mara, Kenya´s leading Game Reserve, lies on the border between Kenya and Tanzania and is the northern extension to the renowned Serengeti plain.
A reserve of breathless vistas, a panorama of vast rolling plains, hills and woodland groves, well watered by the Mara River, concentrating in its proximities permanent populations of wildlife: this is lion, leopard, cheetah and elephant country, with buffalo lurking in the forest and a superb abundance of plains game: zebras, Thompson and Grant gazelles, topis … But all this richness is secondary to the Mara main attraction: the annual migration, which takes place between July and September. Over a million wildebeest, more than two hundred thousand zebra with their attendant predators cross the Mara River and spread across the plains in a seemingly endless procession. This annual seasonal migration has attracted a "ritual" fluctuations of visitors to this part of the world to catch this great spectacle.
LAKE NAKURU NATIONAL PARK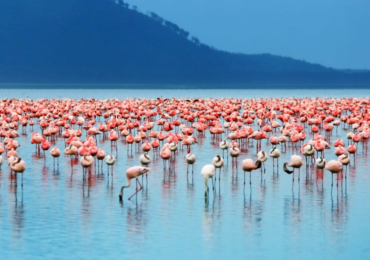 An ornithological paradise and considered one of the country's most beautiful National Park, Lake Nakuru National Park boasts a total area of 368 sq. km, its home for more than 450 different kinds of birds, Lake Nakuru is one of the finest ornithological sights in the world, famous haunt of thousand of flamingoes which feed on the algae in the 40 cm deep lake. This beautiful shallow alkaline lake, just south of Nakuru town, is surrounded by acacia woodland and rich savannah.
Superb example of conservation at work in the wild, it is now, with the assistance of the World Wildlife Foundation, providing sanctuary for Rothschild Giraffe, Black and White Rhino and Leopard who live in perfect harmony in this aquatic landscape. The edge of the lake is frequently a crimson ribbon of Greater and Lesser Flamingoes, while pelicans and other water birds swim and fish in majestic flotilla formation.
SAMBURU, BUFFALO SPRINGS AND SHABA NATIONAL RESERVES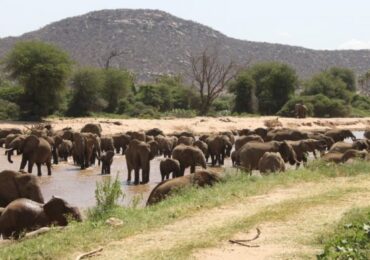 Located on the semi-arid Northern Kenya, in the pastoral Samburu country, the three remote Reserves: Samburu, and the adjacent Shaba & Buffallo Springs National Reserves are rugged, hosting same faunal structure. These wildlife reserves, with a total area of 428 sq. km, lie just within the fascinating semi-desert Northern Frontier District of Kenya.
The tranquil Uaso Nyiro River, flowing through Shaba and Samburu, attract a wide number of rare wildlife and provides a natural habitat for crocodile. Long necked gerenuk, Grevy´s zebra and reticulated giraffe are species not found in the less arid areas to the south. Elephant seek solace and contentment in the shallow waters of this wide sauntering river, fringed with acacia, down palms and tamarind, which together with Buffalo Springs, support a large variety of african mammals, cheetah and leopard being particularly well represented. Doves and guinea fowl abound and the giant Martial Eagle perched on some high vantage point.
The past volcanic intensity of the area is demonstrated by the formidable lava flow at the southern end of Shaba (its name comes from a cone of volcanic rock).
With a magnificent background of jagged, purple mountains, a safari in these small gems in the wildlife wilderness, will provide some of the best and most colorful game viewing in the country.
MOUNT KENYA NATIONAL PARK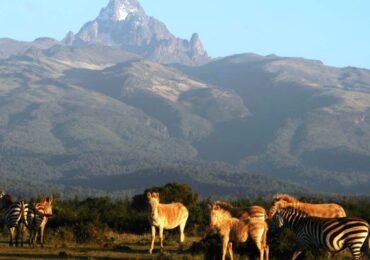 Mount Kenya National Park is home to the highest Mountain in the Country, Mount Kenya, with its snow-capped peaks 5,199 m. high, Its slopes are covered with rich deciduous and bamboo forests and open high altitude moorland just below the glaciers and snowfields. Here, abundant wildlife resident within the thick forest and includes bigger mammals like elephant, buffalo, even lion, with several species of antelope and other smaller animals too. The floral structure of this area is unique and stratified into zones as you ascend to the higher altitude mountain, which has always been a great attraction to botanist. Numerous Mountain Climbing packages are offered from the base Lodges within the foothills of Mount Kenya, making the area a hiking destination.
THE ABERDARE NATIONAL PARK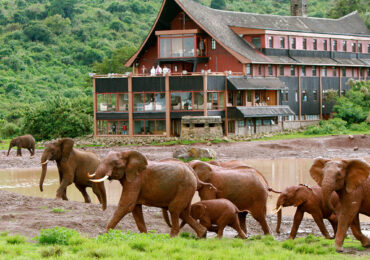 The Aberdares, a beautiful mountain range in the central highlands of Kenya where icy rivers plunge in glorious cascades and waterfalls, is considered the life blood of Kenya being the source of the waters feeding millions of populations down streams. It's a place of dense forest, misty moorlands and alpine plants.
The park boasts 766 sq. km of the area which got rich wildlife species. The Salient stretching out towards the nearby town of Nyeri, was once an elephant migration corridor, although not in use by these giants of jungle, the animals remain within the park together with buffalo and a wide variety of antelope, giant forest hog, the elusive bongo, rhino, lions and hyenas. Tacazze and Malachite Sunbird, Mountain Buzzard and African Goshawk are found in this area where the birdlife is abundant and varied.
AMBOSELI NATIONAL PARK
This seasonal swamp of 3,810 sq. km, is one of the finest areas in the country for big game photography, attracting a vast population of wildlife. The landscape, with its parched alkaline pan and strange mirages, is everywhere dominated by the glistening majestic snowcap of Mount Kilimanjaro on the back ground, a extinct volcano of 5,894 m. known as the "roof of Africa".
This is Maasai country, a proud nomadic people, who have lived in harmony with nature for centuries. Game viewing is an adventure in this park, with lion, cheetah and buffalo almost an assured sight and hosts of antelope, zebra and other small creatures of the wild. Bird life is abundant. But the most impressive inhabitants of this arid landscape are the elephants, moving in large columns in their daily peregrination to the water.
TSAVO NATIONAL PARK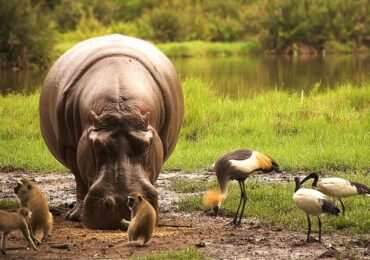 Forming one of the world´s largest game parks is the combined area of Tsavo East and West National Parks, together with the adjoining private sanctuary of Taita. A model national park in layout, geophysical, animal and plant diversity, situated midway between Nairobi and Mombasa.
This starkly beautiful park suffered considerable deprivation both in physical damage and animal loss in the 1970´s, but this is now well past, and today the park is thriving once more. The many natural wonders in this harsh countryside include the fascinating Mzima Springs a marvelous eruption of underground crystal waters arising in the Chyulu Hills from Mount Kilimanjaro, reaching the surface to form clear pools, a heaven for a rich wildlife pageant.
The wildlife in this park includes herds of elephant and prides of lion. Less common species include fringed-eared oryx, klipspringer, striped hyena and caracal.
South of the park is a private sanctuary with lovely lakes and waterholes, which ensures an exciting variety of animals at all times of the year. Weaver birds and their fascinating nests are found throughout the park, as are Fisher´s starling, hornbills and parrots.
LAKE BOGORIA NATIONAL PARK
Probably the most geologically rich National Park in Kenya, Lake Bogoria is like a boiling pot with fuming hot springs and continuous fountains of geysers, jutting from the earth surface. It's own Lake Bogoria, is a rich bird Santuary with thousands of flamingoes and pelican in addition to other bird species. The park also host animal life mostly grazers population, baboons among others.
https://topnotchsafaris.com/wp-content/uploads/2023/09/image_2023-09-20_145434720.png
446
644
admin
https://topnotchsafaris.com/wp-content/uploads/2023/09/image_2023-09-17_162837278.png
admin
2023-09-20 14:54:03
2023-09-20 14:55:10
Parks in Kenya